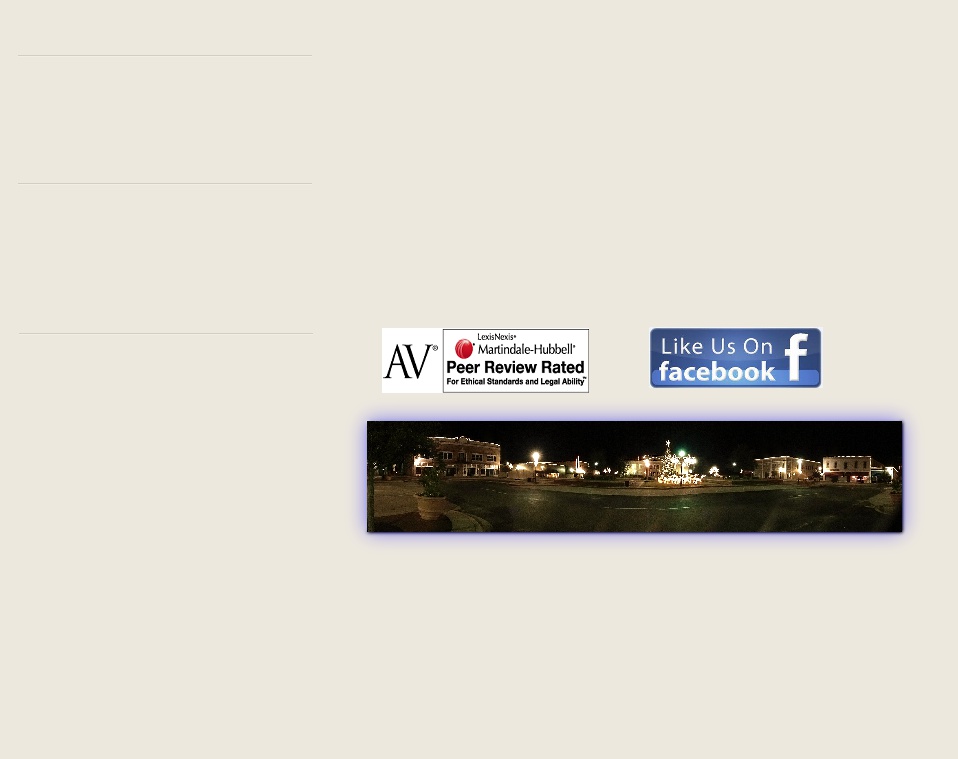 John M Peek,
Attorney and Counselor

23 years of Service

Located On The Courthouse Square

Mr. Peek's practice is located directly across from the Covington County Courthouse in the old Bank of Andalusia building, most recently the law office of the late W. Sidney Fuller.

Right: Mr. Peek with the late W. Sidney Fuller. Mr. Syd, an accomplished Alabama trial and appellate lawyer and past ATLA President, passed away on March 11, 2012.

Announcements and Upcoming Events

Alabama Supreme Court denies cert on TBOR issue
The Alabama Supreme Court denied cert sought by the plaintiff to the Court of Civil Appeals on a TBOR issue; the Court of Civil Appeals had affirmed the Montgomery County trial judge who issued summary judgment in favor of Mr. Peek's client. Contact the firm for more information.

Defense Verdict in Conversion Case in which Plaintiff Requested One Million Dollars from Jury
November, 2011
A Conecuh County jury sided with Mr. Peek's client in claims by a convenience store tenant that the landlord wrongfully interfered with the leasehold property.

Firm Fax Number has changed

The firm fax number is now
(888)600-5123

Mr. Peek's civil and criminal litigation and trial practice has been based in Andalusia, in Covington County, Alabama, since he became a member of the Alabama State Bar in 1990. He has also been a member of the Florida Bar since 1991.

Mr. Peek is licensed to practice law in all Alabama state courts, along with the US District Courts for the Middle and Southern Districts of Alabama, all state courts in Florida and the US District Courts for the Northern and Southern Districts of Florida.

Mr. Peek has completed serving his second term as the Bar Commissioner for the 22nd Judicial Circuit, during which time Mr. Peek served as a member of the Mandatory CLE Commission, the Finance and Budget Committee and was secretary of the Appointed Counsel and Indigent Defense Committee.



In brief

Copyright 2012 John M Peek
28 South Court Square
Andalusia, AL 36420

No representation is made that the quality of legal services to be performed is greater than the quality of legal services performed by other attorneys.



Court Square in Andalusia, Alabama, as seen from the Bank of Andalusia building

Voice (334)222-4196
Fax (888)600-5123

28 South Court Square
Andalusia, AL 36420